Juvenile and Young Adult Issues – Fair and Just Prosecution
Information and Resources
COVID-19 and Youth Justice Issues
No children belong in prison – especially during a pandemic. Conditions were poor in youth correctional facilities prior to the onset of the coronavirus virus, but now young people behind bars face additional trauma, medical risk, and dangerous isolation. While significant progress has been made in reducing the number of children who are incarcerated, far too many children remain locked up. Prosecutors have a mission to promote safe and healthy communities, and that includes protecting children who come into contact with the criminal legal system. Read more about what District Attorneys have done and can do to protect young people in our latest "Issue at a Glance" brief[1].
"This is a tremendous waste of human potential… We need to invest in the beginning of this pipeline, as opposed to its end."
– Satana Deberry, Durham County, NC District Attorney
A New Vision for Youth Justice: Ending Extreme Sentences for Children
As the public conversation creates a new vision for public safety, criminal justice leaders have the opportunity to once and for all address one of America's most shameful practices: the imposition of life-without-parole and decades-long sentences for young people. Key findings of two national polls conducted by Data For Progress indicate that a majority of voters across the political spectrum understand that young people have the capacity to change, and want the justice system to rehabilitate young people, rather than imprison them for life. For more read the report[2] on this recent polling and call for change.
"Fundamentally, we have a system that has believed for a very long time that people are unchanging, that we know how bad you are when you do a bad thing. Well you're not. Science says…PEOPLE CHANGE."
– Larry Krasner, Philadelphia District Attorney
FJP Young Adult Justice Brief
Young adults are a distinct developmental group with unique needs and challenges and the period from 18 to 24 is a critical window of opportunity for lasting change that shouldn't be squandered. This FJP "Issues at a Glance" brief[3] offers models of reform from across the country and recommendations to help prosecutors implement proven, compassionate approaches that give young people the support they need to be productive members of our communities.
FJP Trauma-Informed Juvenile Justice Brief
Drawing on research findings that show trauma and toxic stress harm juvenile and young adult brain development, this FJP "Issues at a Glance" brief[4] offers recommendations for incorporating trauma-informed practices into a prosecutor's office. Tools for prosecutors include changing office practices to avoid re-traumatization of youth, partnering with treatment service providers, and reducing secondary traumatic stress for office staff.
Speaking Out
Policymakers, Time To End Juvenile Life Sentencing
America is the only country in the world to condemn its children to die behind bars through juvenile life without parole (JLWOP) sentences, with an estimated 2,500 people still serving life sentences imposed for grievous mistakes they made as children. In this op-ed[5] in Juvenile Justice Information Exchange, FJP Executive Director Miriam Krinsky, Loudoun County, VA Commonwealth's Attorney Buta Biberaj, and Ingham County, MI Prosecutor Carol Sieman argue that it's time to abolish juvenile life without parole – once and for all.
"As this country faces a reckoning over a racist history that continues to drive mass incarceration, there are few more disheartening examples of policies we must end. And Americans welcome that change."
Youth Prisons Are Ineffective and Should Have Closed Long Before the Coronavirus Hit
In this op-ed[6] in the Sacramento Bee, Gladys Carrión, former commissioner of youth justice services for New York State and City and co-chair of Youth Correctional Leaders for Justice, and FJP Executive Director Miriam Krinsky discuss efforts in California to close state-operated youth prisons and instead provide community-based responses and services for young people. Locking children in prison is inhumane, unjust, and ultimately harms public safety. Children deserve support and second chances close to home – and the dramatic reduction in incarceration in response to COVID-19 shows how the end of youth prisons is in sight.
"In this moment, there is ample incentive to close these giant monuments to failure…Now is the time to heed the collective call from experts to chart a better pathway forward for our youth, as well as our communities."
COVID-19 and the Youth Justice System
Treating kids like kids must be our fundamental starting point for rethinking youth justice, and prisons should have no place in our reimagining of that system. Conditions and outcomes in youth correctional facilities were poor even prior to the onset of the coronavirus virus, but now young people behind bars face additional trauma, medical risk, and dangerous isolation that is detrimental to their physical and mental wellbeing. As COVID-19 continues to spread in correctional facilities across the country and stretches budgets thin, we must ask ourselves, why we are continuing to lock children away in facilities that are costly and ineffective when better alternatives exist. In this video, experts and advocates discuss why these facilities must be shut down, once and for all.
Over 70 Prosecutors and Youth Correctional Administrators Advocate for Closing Youth Prisons
The United States has long been the global leader in youth incarceration, locking up young people at a far higher rate than other industrialized nations, resulting in further trauma and fraying family and social ties, rather than improving children's lives. By any measure, the United States' overuse of incarceration for youth is ineffective, inefficient and inhumane. More than 70 elected prosecutors, youth correctional administrators and law enforcement leaders called for the closure of all youth prisons in the country in a joint statement with Youth Correctional Leaders for Justice. Read the release[7] and statement[8].
"As professionals charged with promoting the public's safety and well-being, rehabilitating young people and seeking justice, the time has come for us to speak out and oppose the continued operation of these facilities."
Elected Prosecutors Call for Relief for Individuals Sentenced to Life Without Parole as Children
In 2012, the US Supreme Court ruled that it was unconstitutional to sentence children to life without parole and required an avenue for relief for people sentenced to life without parole as juveniles. In accordance with this precedent, many states have implemented policies that provide for review of juvenile life sentences, offering a pathway to release and a second chance. Missouri, however, has instituted a system that imposes substantial and improper impediments to parole, in direct contravention of Supreme Court decisions and the due process rights of individuals who received lifetime sentences as juveniles. That's nearly 60 criminal justice leaders, including 30 current elected prosecutors from across the country, filed an amicus curiae brief in the United States Court of Appeals for the Eighth Circuit challenging the Missouri parole board's process. For more, read the press release[9] and brief[10].
"Missouri has purposefully instituted a policy that is…a denial of fundamental rights that harms individuals and, ultimately, community safety by eroding trust in the integrity of the system."
– Wesley Bell, St Louis County Prosecuting Attorney
Criminal Justice Leaders Criticize Detention Conditions of Unaccompanied Minors
All children in detention need – and are constitutionally entitled to – trauma-informed care. Yet, a Virginia district court ruled that providing such care to unaccompanied immigrant children was merely an aspirational goal rather than a necessity dictated by law. That's why 57 criminal justice leaders from across the country and the disAbility Law Center of Virginia filed an amicus curiae brief in the Fourth Circuit Court of Appeals. In the brief, amici argue that denying such care would be deeply harmful to children in detention, erode trust in the justice system and harm public safety. For more on this important and timely issue, read the press release[11] and full brief[12].
"When there is a credible claim of abuse and harm to a child, as is in this case, all arms of the government should engage in a swift response to end the immediate action and to ensure the termination of any systemic practices. The lower court's dismissal of this case is inconsistent with the facts and the law and sends a message that some groups are less worthy of protection against harm."
– Buta Biberaj, Commonwealth's Attorney, LoudoUn County, VA
Massachusetts Prosecutors Urge Policymakers to Raise the Age of Juvenile Jurisdiction
As communities increasingly push for new approaches to youth justice, Massachusetts District Attorneys Andrea Harrington (Berkshire County), Rachael Rollins (Suffolk County), and David Sullivan (Franklin/Hampshire County) called upon state policymakers to build on the progress of past reforms and raise the age at which youth can be charged as juveniles from 18 to 21. Noting extensive research, proven approaches from other countries such as Germany, and concerning racial disparities, these elected prosecutors offered their support for moving toward a strategy that improves outcomes and equity for emerging adults, while also promoting public safety. Read the release[13].
"[T]he juvenile justice system provides a better pathway forward by looking at youth more holistically in the context of their family, school and community."
– Andrea Harrington, District Attorney, Berkshire County, MA
"Germany's Better Path on Emerging-adults"
Shifting the focus of the justice system from harsh punishment to prevention and rehabilitation makes communities safer, and no population is more critical to this effort than our young people. In a Boston Globe op-ed[14], Suffolk County District Attorney Rachael Rollins and FJP Executive director Miriam Krinsky discuss the lessons Germany offers about how to rethink our approach to young adult justice and the importance of models and strategies grounded in compassion and equity.
"Almost 20 years into the 21st century, it is time for Massachusetts — and this nation — to treat its young people with the compassion that Germany embraced in the middle of the last century."
Legal Experts Rally Behind California Law to Keep More Kids Out of the Adult Justice System
Over 100 legal scholars from 18 law schools in California joined in a white paper[15] supporting the constitutionality of a new state law that prevents children below the age of 16 from being prosecuted or sentenced in the adult criminal system. As the white paper argues, these sensible reforms are not only constitutional, but also based on what over two decades of brain development research has demonstrated. Children aged 14 and 15 are kids and should be treated as such – not just because it's the right thing to do, but because it is the best way to promote long term public safety.
"Keeping youth in the juvenile justice system means safer communities."
– UNIVERSITY OF CALIFORNIA, BERKELEY SCHOOL OF LAW DEAN ERWIN CHEMERINSKY
"Science—and the Law—Says Don't Try Juveniles as Adults"
Recognition of youth development and young people's tremendous capacity for change is a simple starting point that has failed to be consistently applied for children whose lives are touched by the criminal justice system. Harsh punitive practices deny far too many children the opportunity for rehabilitation and in the long run undermine public safety. In a San Francisco Chronicle op-ed[16], FJP Executive Director Miriam Krinsky, former East Palo Alto Police Chief Ron Davis and former Orange County Senior Deputy District Attorney Brian Gurwitz weigh in on California's important juvenile justice reforms that prevent youth below the age of 16 from being prosecuted in the adult justice system.
"Treat kids like kids. It's not only good common sense, but good public policy."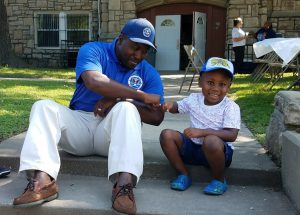 "Why Are We Sentencing Juveniles To Die In Prison? The Supreme Court Dropped the Ball."
In this op-ed in USA Today[17], D.C. Attorney General Karl Racine, Director of the Center for Juvenile Justice Reform at Georgetown University Shay Bilchik and FJP Executive Director Miriam Krinsky discuss the need for prosecutors to embrace the latest research on children and young adults who come into contact with the justice system and implement fair, evidence-based, and compassionate policies that give young people a second chance.
"Our Work to Reform the Juvenile Justice System Is Not Yet Complete"
District of Columbia Attorney General Karl Racine, Fair and Just Prosecution Executive Director Miriam Krinsky and Campaign for Youth Justice Chief Executive Officer Marcy Mistrett recount recent reductions in juvenile crime and incarceration rates driven by the implementation of smart-on-crime strategies and also identify the many areas where changes are still needed. Read more here[18].
"Three Ways We Can Help the D.C. Children Who Live in Fear"
District of Columbia Attorney General Karl Racine argues for a city-wide, comprehensive strategy to deal with child and youth trauma. Read more here.[19]
Examples of Innovation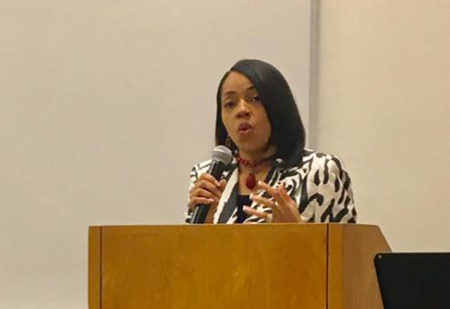 Orlando Project No/No
9th Judicial Circuit (Orlando, FL) State Attorney Aramis Ayala's office has instituted a policy whereby juveniles who are either not charged with a crime or referred to and complete diversion are spared a court record. Read more here.[20]
"Hillsborough to Expand Civil Citation Program for Juveniles"
13th Judicial Circuit (Tampa, FL) Florida State Attorney Andrew Warren introduced a civil citation diversion program for juveniles with misdemeanor offenses. Read more here.[21]
Denver District Attorney Beth McCann Creates Juvenile Unit
Denver (CO) District Attorney Beth McCann announced a new Juvenile Unit as part of a broader focus on juvenile issues and diversion programs. Juvenile Unit deputies will have three-year assignments and the chief deputy will have a five-year assignment in an effort to bring about continuity and leadership in this important area. Read more here[22].
Reducing Juvenile Arrests
4th Judicial Circuit (Jacksonville, FL) State Attorney Melissa Nelson implemented a juvenile diversion program for children arrested in her community. Read more here.[23]
Source URL: Read More
The public content above was dynamically discovered – by graded relevancy to this site's keyword domain name. Such discovery was by systematic attempts to filter for "Creative Commons" re-use licensing and/or by Press Release distributions. "Source URL" states the content's owner and/or publisher. When possible, this site references the content above to generate its value-add, the dynamic sentimental analysis below, which allows us to research global sentiments across a multitude of topics related to this site's specific keyword domain name. Additionally, when possible, this site references the content above to provide on-demand (multilingual) translations and/or to power its "Read Article to Me" feature, which reads the content aloud to visitors. Where applicable, this site also auto-generates a "References" section, which appends the content above by listing all mentioned links. Views expressed in the content above are solely those of the author(s). We do not endorse, offer to sell, promote, recommend, or, otherwise, make any statement about the content above. We reference the content above for your "reading" entertainment purposes only. Review "DMCA & Terms", at the bottom of this site, for terms of your access and use as well as for applicable DMCA take-down request.
Acquire this Domain
You can acquire this site's domain name! We have nurtured its online marketing value by systematically curating this site by the domain's relevant keywords. Explore our content network – you can advertise on each or rent vs. buy the domain. Buy@TLDtraders.com | Skype: TLDtraders | +1 (475) BUY-NAME (289 – 6263). Thousands search by this site's exact keyword domain name! Most are sent here because search engines often love the keyword. This domain can be your 24/7 lead generator! If you own it, you could capture a large amount of online traffic for your niche. Stop wasting money on ads. Instead, buy this domain to gain a long-term marketing asset. If you can't afford to buy then you can rent the domain.
About Us
We are Internet Investors, Developers, and Franchisers – operating a content network of several thousand sites while federating 100+ eCommerce and SaaS startups. With our proprietary "inverted incubation" model, we leverage a portfolio of $100M in valued domains to impact online trends, traffic, and transactions. We use robotic process automation, machine learning, and other proprietary approaches to power our content network. Contact us to learn how we can help you with your online marketing and/or site maintenance.